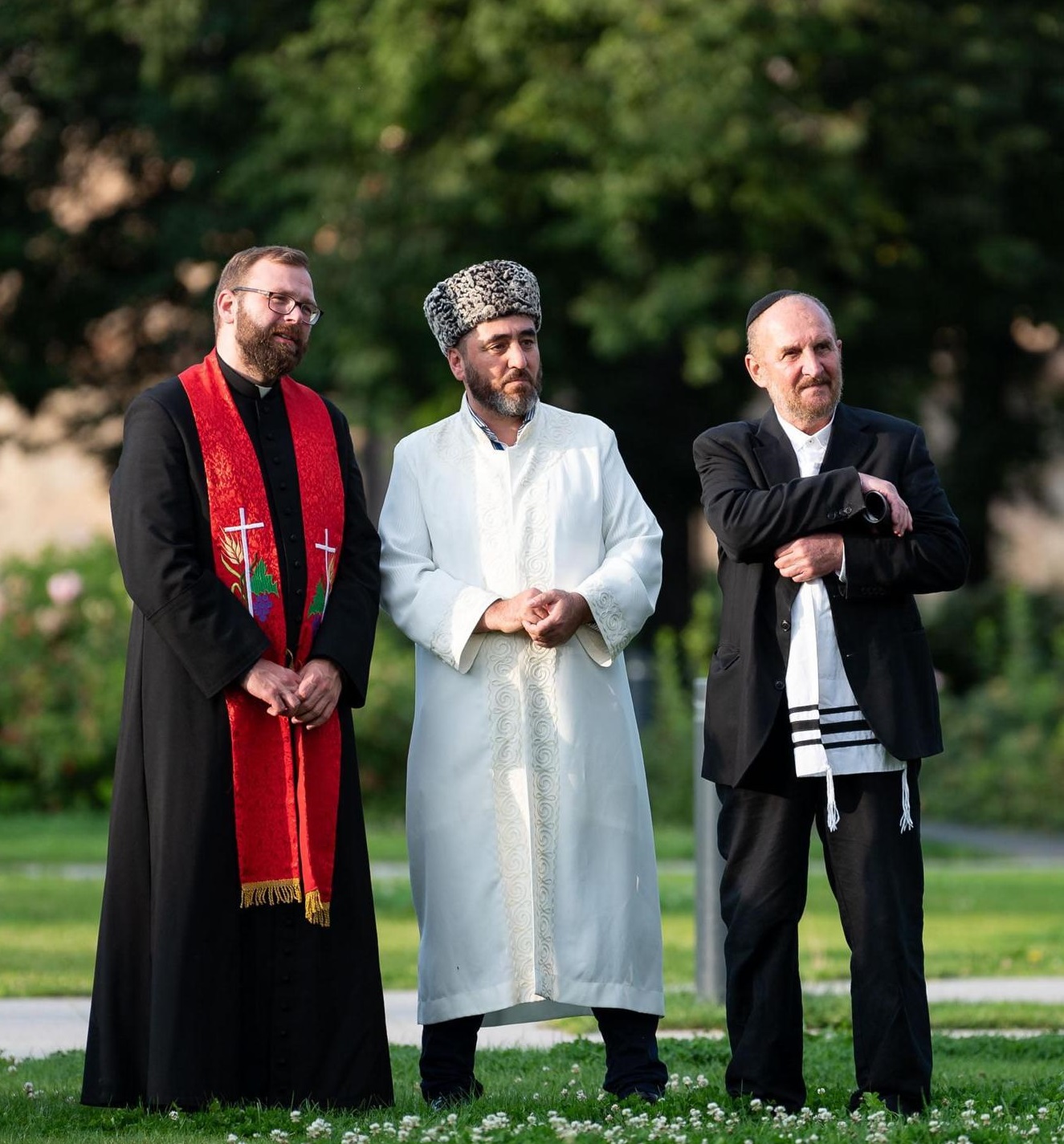 Three Abrahamic religions followers prayers (Christianity, Islam, Judaism) in Lukiškės Square
Published on August 28, 2020
August 27 Aleksandras Beganskas, the Mufti of the Council of Lithuanian Muslim Religious Communities, participated in actor Arkadijus Vinokuras and composer Faust Latėnas performance "Ode to Suffering and Joy."
During the performance, three followers of Abraham's religions (Christianity, Islam, and Judaism) performed prayers. Mufti A. Beganskas reminded the audience that believers must be united and reject the division according to skin color, race or nationality. He said that all humanity descends from Adam and Eve, an Arab is not superior to a non Arab, nor is a non Arab superior to an Arab, a white is not superior to black, nor is black superior to white. No one has an advantage over others

except in righteousness and good works

.
From ancient times, Muslim Tatars living in Lithuania were humble to their the Grand Duchy of Lithuania leader, who was not of Tatar descent. They humbly obeyed all his commands, not resisting and shielding him. The Tatars made a significant contribution to preserving Lithuanian statehood in ancient, interwar period and present-day independent Lithuania.
Thus, there is no doubt that if someone invites another person to hate Muslims of other nationalities or other backgrounds who came to Lithuania today or several centuries ago, that will only make him sinful and cultivate his arrogance.
The Prophet Muhammed (ﷺ) said, "Allah is Beautiful. He loves beauty.

Arrogance means ridiculing and rejecting the Truth and despising people."

(Muslim).
LMRBT-Muftiate would like to sincerely thank the Muslim community members who came to support this project as the Vilnius Tatar ensemble "ILSU" team and its leader, and all the spectators who came for their participation.
At the end of the performance, Mufti A. Beganskas offered the organizers to gather in Lukiškės Square once a year and perform joint prayers together.
May Allah be merciful to martyrs, alleviate the pain of loss for families and their loved ones traumatized by this painful past and tormented by pain.